Aug 05, 2015
Commencing Sale of Automated Nucleic Acid Purification System and Dedicated Reagents
- Realizing Total Support for Genetic Testing in Hospitals -
ARKRAY, Inc. (head office: Nakagyo-ku, Kyoto City; President & CEO, Representative Director: Takeshi Matsuda) will start marketing the automated nucleic acid purification system Maxwell® RSC Instrument and dedicated reagents manufactured and sold by Promega Corporation (head office: Chuo-ku, Tokyo; Representative Director: Masahiro Ueda) from August 8th. By totally supporting genetic testing, from nucleic acid extraction to analysis and even results reporting, it will contribute to the simplification and efficiency of the entire work process.
ARKRAY, Inc. (hereafter, "ARKRAY") has executed a sales and marketing cooperation agreement with Promega Corporation on marketing the Maxwell, an automated nucleic acid purification system, and its dedicated reagent series, having already marketed the Maxwell® 16 as of 2013.
The Maxwell RSC, that ARKRAY shall now distribute, is a successor model to the Maxwell 16, and is a compact, table-top device that uses dedicated reagents to realize DNA and RNA extraction and purification for gene related tests with a short turnaround time.
The high processing capacity of the existing Maxwell 16 is retained, while it can be connected to the included nucleic acid quantifier device Quantus Fluorometer to quantify the concentration of extracted nucleic acid and can accumulate the results in the operation PC. In addition, an optional bar code reader can be used to manage sample numbers to prevent mix-up of samples.
ARKRAY, under the concept of "more genetic testing accessibility," has a product line-up that provides total support for gene-related tests in the hospital, including the Gene Analyzer i-densy IS-5320 and gene analysis support system MEQNET iDia*. From nucleic acid extraction using the Maxwell RSC, amplification and detection with the i-densy IS-5320 and results analysis and report creation using the MEQNET iDia, we realize simplification and labor-saving in the gene-related testing process. ARKRAY will continue to enhance its gene-related testing product line-up and total support to promote wider use of tests and contribute to promoting individualized medicine.
*A system that supports the intricate work involved in gene-related testing, including uniform management of test data, support for analysis result determination, and automatic creation of examination reports.
Main Features
•Easy Operation
Using the touch screen on the included Operation PC (tablet terminal), operations from sample setting to extraction can be done easily.
•Simultaneous rapid processing of up to 16 samples
A maximum of 16 samples can be processed in as little as 30 minutes.
•Compact design
A compact table-top design (w 33 x d 34.5 x h 30 cm) allows installation without taking up much space even in a small area within the hospital. Lighter and more compact than the previous model.
•Unified management extending to quantitative results
By connecting the Quantus Fluorometer, all sample data can be managed under a single report document.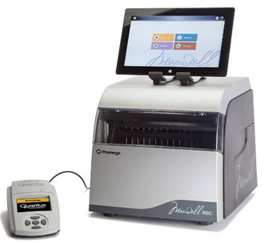 *Research instrument
(Left)--Nucleic Acid Quantification Device: Quantus Fluorometer
(Top)--Operation PC (tablet terminal)
(Bottom)--Personal Automated Nucleic Acid Purification System: Maxwell RSC
Related Products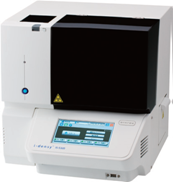 *Medical device
Gene Analyzer i-densy IS-5320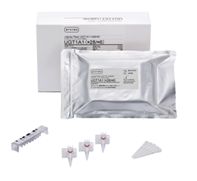 *In vitro diagnostic reagent
i-densy Pack UGT1A1 (*28/*6),
a polymorphism detection kit for UDP glucuronyl transferase (UGT1A1)
Product Overview: Maxwell RSC
| | |
| --- | --- |
| Name | Maxwell RSC |
| Release Date | August 8, 2015 (Saturday) |
| Specifications | |
| Processing Time | 30 to 60 minutes (dependent on kit/sample type) |
| No. of Samples | Maximum 16 samples |
| Elution Volume | Standard 50 to 100 μL |
| Weight | 11 kg |
| Dimensions | 330 × 345 × 300 mm (excludes height of tablet PC) |
| Electrical Specifications | 100 - 240 VAC, 50/60 Hz, 2.5 A |
| Barcode Reader | Optional |
| Operation Method | Operation PC (tablet terminal: Windows) |
This product will be sold through ARKRAY Marketing, Inc. (ARKRAY, Inc.'s distributor in Japan).
This product is only available in Japan and is not sold in other countries.